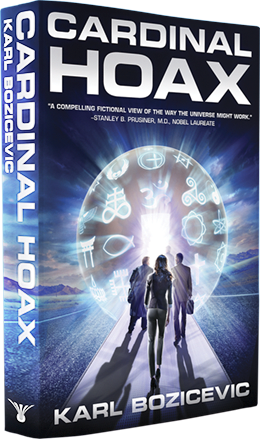 overview
When Herbert Sedlack—an eccentric particle physicist working out of his sprawling Woodside estate—achieves startling results with a new invention, he knows he wants more from it than financial gain.
His first coconspirator is Korin Prentise, a beautiful venture capitalist and an incorrigible risk taker. Two more members join the team—Alan, a gay computer genius, and Oscar, an African American theology professor at Stanford. Each keeps secrets from the others. Each has divergent motivations that converge and reverberate as an audacious scheme unfolds, from the mysterious Area 51 in Nevada, to the UN building in New York, to the sacred airspace of the Vatican.
The first human beings to move between dimensional spaces, the four gain unexpected perspective on religion, interconnection, and hope. Most crucially, their efforts culminate with the greatest hoax the planet has ever known—a Cardinal Hoax.
reviews
"A compelling fictional view of the way the universe might work."
–Stanley B. Prusiner, M.D., Nobel laureate
"Bozicevic understands how pioneering inventions change our world more than politics, faith, and the environment combined.
In Cardinal Hoax, he explores this reality to impressive effect."
–Tena Herlihy, Counsel, MIT Technology Licensing Office
More can be found at Amazon.com!
A review of the book can be found at "A Book a Day Reviews"

Read Excerpt here